The Gallery - Part 2
7 November 2004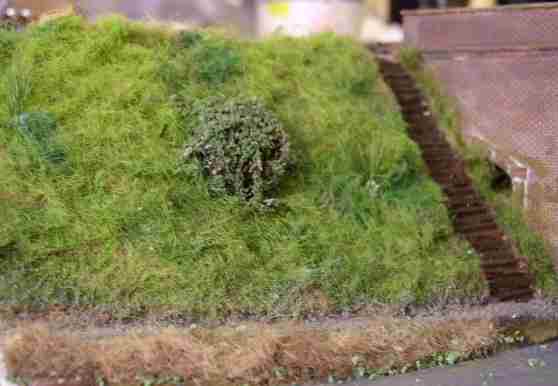 The first scenery finishing touches have been applied to the embankment to the left of and in front of the bridge (see last picture in Gallery 1). I have often found that scenery such as this is simply described as "made from carpet underlay" so a full description can be found in the Progress Diary under the above date.
---
13 November 2004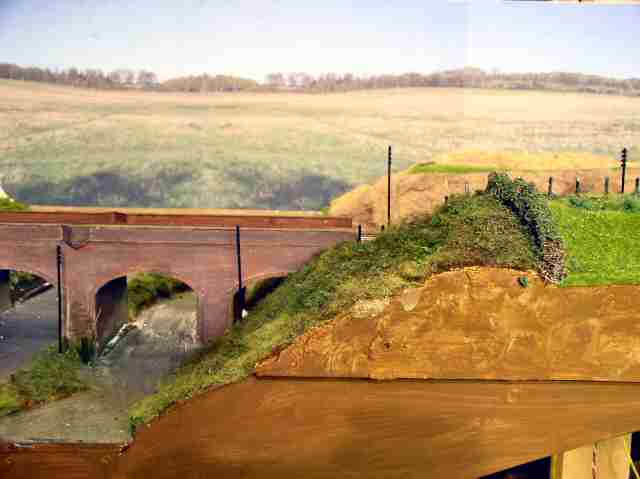 More progress on the scenery. The opposite embankment has been "grassed", a hedge set in together with fencing and telegraph poles. The backscene is A3 sized prints of views of the South Downs taken with a digital camera.
---
24 November 2004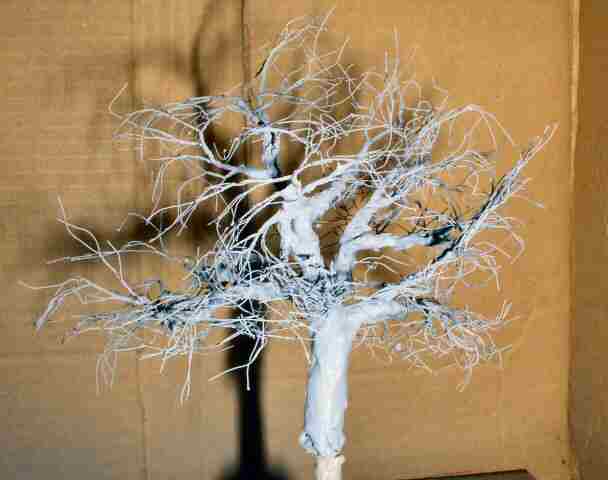 A small Oak Tree under construction. Fully primed and awaiting final base colour and texturing followed by the application of foliage. As you can see, it is realistic enough so simply the former would give a very good representation of a tree in mid-winter (well, I think so - but I'm prejudiced!).
---
25 November 2004.
The same tree has now had the benefit of colouring, texturing and foliage added and has now been "planted" on the layout! Its position is such that it was almost impossible to photograph and even more so to do it justice. It can, however, be seen here immediately behind the coal bunker of the Ivatt tank. The painted trees with lichen foliage can clearly be seen to its right. These will be largely hidden apart from their crowns so the whole should provide the effect of a thickly wooded area. I hope!
---
3 January 2005

The lifting section is approaching completion. This photograph shows the progress. A few detail touches to the scenery in general and then the road and the river can be finished off hopefully completing this diorama.
---
15 March 2006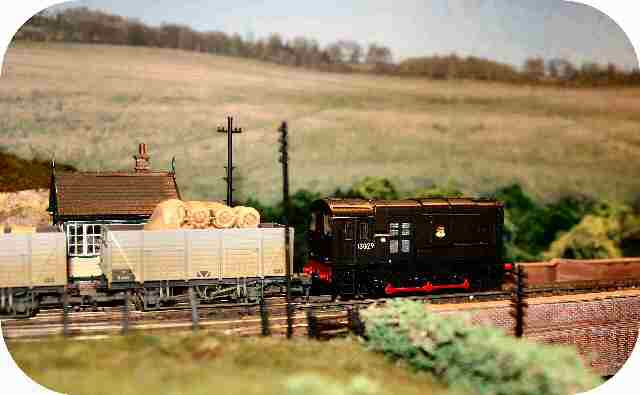 No real scenic process - but a picture of one of this year's Christmas presents being put to work with a short goods train. Just passing the signal box controlling the junction to the hidden sidings and approaching the bridge.
---
8 February 2007
Two years after the picture next but one above, the 2-Bil has finally been completed. Oh, if only I had as much time as I thought I would!